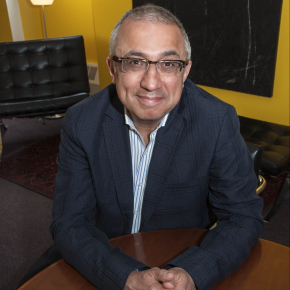 © Amir Hoveyda
"Make our planet great again" Amir Hoveyda, the wager of sustainable catalysis
Entretiens Catalyse Environnement
The USA withdrew from the Paris Climate Agreement in 2017. Following this, President Emmanuel Macron launched that same year the "Make our planet great again" call for projects. MOPGA finances the hosting of foreign scientists in French laboratories, so that they bring their contribution to the fight against climatic change. Professor Amir Hoveyda from Boston College is the winner of the third wave of projects, and as such has unpacked his bags and the tools of his trade in the Institute of Science and Supramolecular Engineering (ISIS, CNRS/University of Strasbourg), the Mecca of research in chemistry world-wide. This choice of host laboratory is not trivial.
What does "Make our planet great again" represent for you?
As a human being and a researcher, my goal is to see people live longer. I am a disciple of Buddhism, so I aim to reduce suffering of both humans and animals. Not all governments are concerned: the French President, Emmanuel Macron, has therefore taken a major initiative by allowing foreign researchers to come and stay in France to develop research projects around the sciences of the Earth's system and sciences of climatic change and energy transition with their colleagues.
How will you implement your research project in the framework of MOPGA?
I have been welcomed into the Institute of supramolecular science and engineering of Strasbourg, ISIS, where I set up the PRACCATAL research group that focuses on the development of new catalysis methods devoted to the production of organic molecules of high added value for medicine. These are mainly anticancer and anti-tumour compounds, or those directed against hepatitis C virus, which all share common structures. With the ISIS researchers we will seek to produce these compounds "en masse" whilst drastically limiting failure, until we reach an efficiency that helps the environment.
I will work in France for three or four years, initially for six months a year, alternating between Strasbourg and my chemistry chair at Boston College in Massachusetts, where part of my team is still working. My latest article was published in Science and was written with colleagues from both Boston and Strasbourg. We succeeded in making two catalysts work together, an achievement that had previously always failed. This improved the production of tangutorin, a natural anticancer drug.
Why did you choose ISIS?
The reputation of Strasbourg's ISIS in chemistry research was a great attraction. For me, this research unit is a unique laboratory, not only in France but in the whole world, for both its operation and the researchers who work there. It includes three Nobel Prize winners: Jean-Marie Lehn, Jean-Pierre Sauvage and Martin Karplus, and covers topics as diverse as nanotechnology or biophysics. Make our planet great again was the perfect opportunity for me to come and work here and meet my new colleagues. 
What are the principles underlying your work related to the PRACCATAL  programme that is supported by MOPGA?
PRACCATAL stands for practical catalyst, a pragmatic catalysis. Effectively, chemistry researchers develop many protocols, but a lot remain difficult to put into practice. Chemists are required to use solvents and once a reaction is complete it is important to manage waste products. The same is true for purification steps.
PRACCATAL thus aims to develop more nature-friendly procedures that will reduce the use of solvents, by using catalysts. To design these, we favour the use of abundant metals, such as iron, nickel, molybdenum, etc. Scale problems need to be solved. Producing several tons of components at a time significantly reduces the amounts of solvents used.
Nine years ago, I founded a company in Europe based on the same principles: XiMo. Its headquarters are in Switzerland, and the laboratory is in Hungary. My post in Strasbourg will bring me closer to this company. With MOPGA, it is not a question of putting France or another country forwards, but rather the whole planet. We are all in the same boat and we need hope at this troubled time.
Contact
Responsable Communication
Christophe Cartier dit Moulin
INC & Institut parisien de chimie moléculaire